Notorious Pirates and their Famous Pirate Ships
The Golden Age of Piracy has always captured the imagination of the boating community.
Who among us has never considered stocking the boat with rum, dropping the dock-lines and sailing off to live a life of debauchery and conquest?
Well, truth be told, if we tried this today, the results would be disastrous. But from the 1650's to the 1730's, a rowdy crew of pirates held sway over the seven seas: they plundered, they captured ships, they drank a lot of rum.
We're familiar with many of these infamous pirates – Blackbeard, Captain Kidd, Anne Bonny, Stede Bonnet and 'Black Bart' Roberts. But what about the famous pirate ships that carried them from coast to coast, from plunder to plunder?
In this article, we briefly describe many of the rowdy pirates and their famous pirate ship names. To keep things light, we've also included a list of funny pirate ship names.
Arrrrrr!!
Famous Pirate Ship Names
Bachelor's Delight – the pirate ship of William Dampier.
Royal Fortune – Bartholomew 'Black Bart' Roberts liked to name most of his ships the "Royal Fortune".
Golden Hind – the galleon of  Sir Francis Drake.
Roebuck – William Dampier's 292-ton pirate ship..
Queen Anne's Revenge – Blackbeard's infamous pirate ship. This ship was recently discovered off the coast of North Carolina (read below for details).
The Black Pearl – this one rings a bell…where is it from?
Satisfaction – the flagship of Henry Morgan.
In 1670, Capt. Morgan was at the height of his powers. He sailed into Panama City to inflict damage on the Spanish empire. But, alas, the Satisfaction ran aground on the Lajas Reef near the mouth of the Chagres River. This pirate ship was recently discovered and retrieved.
Captain Morgan's Rum footed the bill…
New York Revenge – a pirate ship of William Kidd.
The Adventure Galley – another ship of William Kidd.
The Golden Fleece– Joseph Bannister went rogue in this vessel in the late 17th century. Loaded with 30-40 guns, Joseph operated the Golden Fleece out of Port Royal. This vessel was found in 2009 by American shipwreck hunters.
The CSS Alabama – a confederate pirate ship.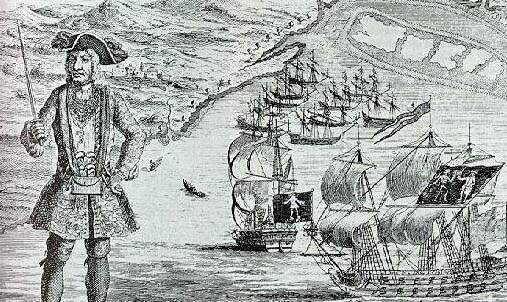 Welsh pirate, Bartholomew Roberts, posing in front of his ship, the Good Fortune.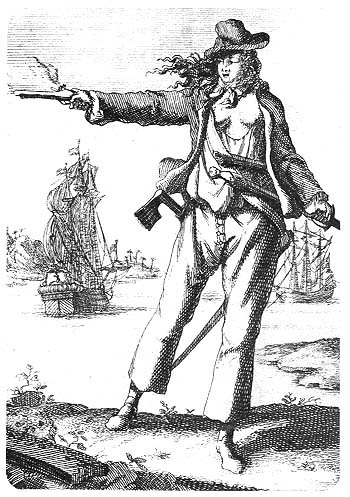 The Whydah – a famous pirate ship name, captured and claimed by 'Black Sam' Bellamy.
The Flying Dragon – a pirate ship named by the famed pirate, Edmund Condent.
The Rose Pink – another Edward Low man-of-war sloop.
The Revenge – the pirate sloop commanded by John "Calico Jack" Rackham, Anne Bonny and Mary Read.
The Rose Pink – another Edward Low man-of-war sloop.
The Fancy – an Edward Low 80-ton schooner.
The Squirrel– another Edward Low man-of-war sloop.
The Gabriel– the vessel used by Sir Martin Frobisher, the Elizabethan privateer*.
* Elizabethan privateers were 'lawful' pirates authorized by the British government to capture the treasure ships of enemy nations. The privateers received 'letters of marque' from the British government. These letters allowed the sailors to plunder Spanish ships.
Did we forget any of the best pirate ships?
Let us know.
Looking for a nautical gift idea?
These solid brass Port & Starboard Lamps
 add a rustic, sea-faring element to your home or work space.
Perfect for the skipper who has everything…

Bulb socket: standard – fits all regular size light bulbs

8 feet of lamp cord, on-off switch, wall mount hardware
Lamps come in 2 different styles: antique brass and shiny brass. Click on image to purchase the lamps from Amazon.
Thinking about installing a solar panel on your boat?
I wrote this 

blog post

, which describes how to put solar on your boat for less than $200.
I've been happily teaching people to install solar for the past 5 years…
Solar is a cheap and eco-friendly way to keep your battery bank topped off.
~Captain Curran (I'm also the author of this pirate name page).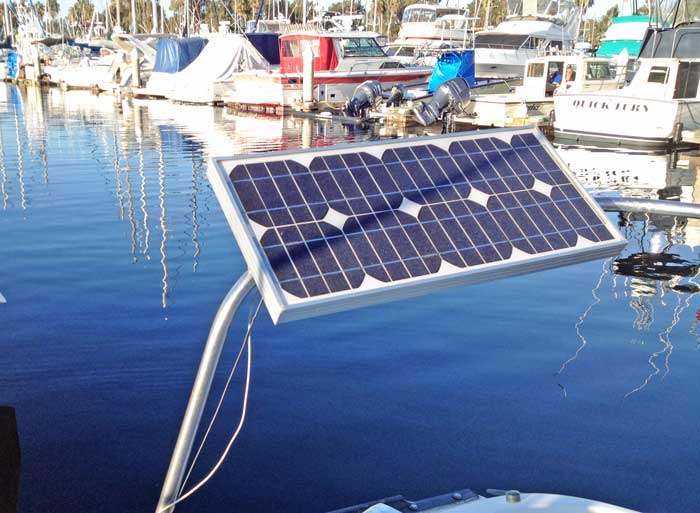 Since I installed this panel on the stern rail of my boat, I've never lost battery power once.
Here's my simple set of instructions to get you started.
Funny Pirate Ship Names
The Kraken
Devil's Whore
Davy Jone's Executioner
The Bloody Shame
Neptune's Whore
Satan's Mermaid
Black Charlatan
Devil's Maw
Privateer's Death
Rogue Wave
Kiss of Death
Night's Dirty Lightning
Devil's Doom
Monkeebutt
Ghostly Seadog
The Wicked Wench
Sea Nymph
Privateer's Scream
Devil's Cursed Storm
The Black Heart Wench
Cursed Sea-Dog
The Howling Lusty Wench
Scourge of the Seven Seas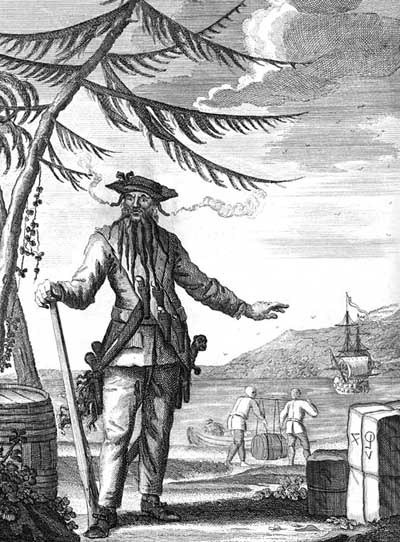 Captain Blackbeard tied lit fuses in his hair to terrify his victims. In the background of this engraving lies Blackbeard's famous pirate ship, the Queen Anne's Revenge.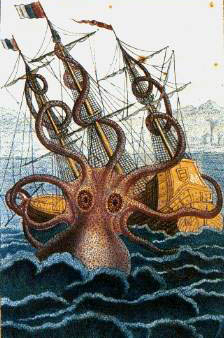 Murderer's Knave
The Seas Whore
Bachelor's Delight
The Hail Mary
Privateer's Shameful Gold
Mourning Star
Sea's Hellish Plague
Bachelor's Delight
Captain's Horrid Treasure
The Salty Bastard
Hell and High-Water
Neptune's Plague
The Evil Strumpet
Recent News

on Blackbeard's infamous pirate ship, the Queen Anne's Revenge
The Queen Anne's Revenge is one of the most famous pirate ship names of all time. This boat was originally a massive French slave ship called La Concorde. In November 1717,  the ruthless pirate, Edward 'Blackbeard' Teach, captured the ship and gave it the boat name, Queen Anne's Revenge. He re-fitted the slave ship with 40 cannons and converted the vessel into a proper pirate warship. Blackbeard used the Queen Anne's Revenge to terrorize and dominate the Caribbean Sea in the early 1700s.
Blackbeard was famous for dashing into battle with a sword in each hand, pistols and knives in his belt and lit fuses tied into his hair. With smoke and flame rising from his head, Blackbeard struck terror in the heart's of his victims.
The Queen Anne's Revenge eventually ran aground near Beaufort, a coastal town in North Carolina. Blackbeard escaped and lived to fight another day. But his famous pirate ship sank in 28 feet of water, where it still lies today.
Interestingly, this ship has recently been discovered about 1 mile off the North Carolina coast. The boat is now confirmed to be the Queen Anne's Revenge and almost all of the 40 cannons have been recovered. No official word on whether anyone has yet found Blackbeard's lost gold treasure…
As you imagine, this discovery has not occurred without litigation. Much like the original pirates, various agencies are currently attempting to profit from the Queen Anne's Revenge. On December 2015, state leaders from North Carolina were facing 2 lawsuits regarding their handling of the shipwreck's exploration and removal. Nautilus Productions, a Fayetteville photography company, has been documenting the recovery of the wreck and was hoping to make a profit from the images. Apparently, the state made these images available free to the public, thereby preventing Nautilus from profiting on the pictures.
A new twist to this story emerged in May 2016.
A local non-profit group called, Friends of the Queen Anne's Revenge had to officially dissolve its operation. This group had previously been involved with the recovery of artifacts from the Queen Anne's Revenge pirate ship. According to their spokesman, this new dissolution will limit their ability to raise funds and conduct dives on the wreck. This would considerably slow the process of retrieving artifacts from the ocean floor.
Apparently the dissolution of Friends of the Queen Anne's Revenge is related to a lawsuit that was leveled against them by Nautilus Productions. Nautilus is the company mentioned above that brought lawsuits against the state of North Carolina for releasing images of the wreck to the public. As of May 2016, the Nautilus website claims to be the 'owner and exclusive licensor' of footage from Blackbeard's flagship.
The plan was to have all of the wreckage material off the ocean floor by 2018. It is possible this timeline will be pushed back considerably due to these lawsuits.
We will keep you posted as this interesting pirate story unfolds…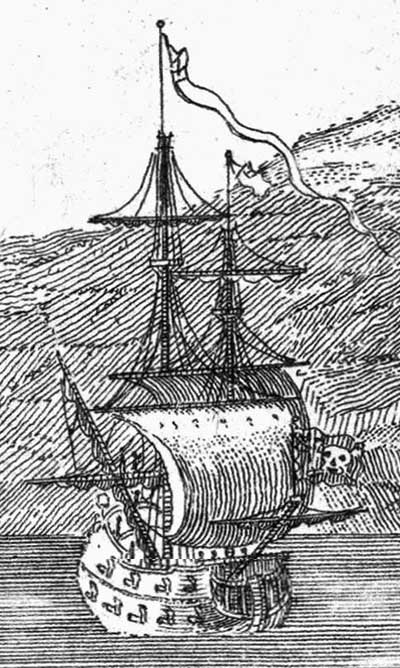 The Queen Anne's Revenge, Captain Blackbeard's notorious ship (engraving by Isaac Basire).
Other boat name categories…
Nautical hanging lamps designed in the likeness of marine buoys.
Works with all regular sized bulbs. Built from re-purposed industrial steel.
3 feet of hanging chain, 15 feet of lamp cord, plugs into the wall.
Hang from wood, plaster or dry wall ceiling. We include versatile hanging hooks.
These unique, hand made lamps are designed and built by the author of this website, All Things Boat.
We'll be updating this page with more archaeological news on pirate ships.
Arrrr! We thank you for for spending some time on our historical pirate ship names page. If you're an avid fan of old pirate ships and want to share some of your best famous or funny pirate ship names with us, then please don't hesitate to reach out. You can leave a comment on our All Things Boat Facebook page or send us an email here.
Click on the icons below to follow us on social media!