Sailors are often found moving slowly across the water while adjusting lines and trimming sails. This slow activity allows plenty of time to think up philosophical or funny sailboat names.
If you consider yourself a contemplative sailor with a keen sense of humor, we think you'll enjoy our list of sailboat names.
Our list of funny sailboat names
Yada Yachta
Sea-Sikh
Serendipity
Verboatem
Ship happens
Much Ado Aboat Nothing
Sea-King
Finnegan's Wake
Comedy of Airs
All For Knot
AlgoRhythms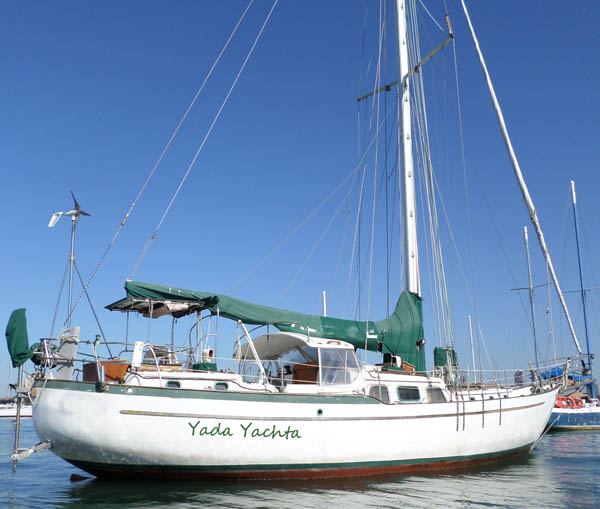 Looking for a nautical gift idea?
These solid brass Port & Starboard Lamps
 add a rustic, sea-faring element to your home or work space.
Perfect for the skipper who has everything…

Bulb socket: standard – fits all regular size light bulbs

8 feet of lamp cord, on-off switch, wall mount hardware
Lamps come in 2 different styles: antique brass and shiny brass. Click on image to purchase the lamps from Amazon.
More names for sailboats

CARPe Diem
L'attitude
Claire-Buoyant
Can't take it with ya
Why Naut?
Irattional exuburance
Dot Calm
Sea-Dation
Weather Oar Knot
Mast-Confusion
SeaClusion
Tomato Sloop
Without a Clew
Y Worry
Hope you enjoyed our list of funny sailboat names.
Sailing has been a lifestyle and a sport for me. I hardly know the person I was before I purchased my Newport 30. Some of my greatest heroes are single handed sailors. Chichester, Moitessier, Slocum – these guys are legends of the seven seas. If you have never heard of Joshua Slocum, then you can read about his life here. He wrote a great book called, 'Sailing alone around the world.' It should be in the main cabin of every sailboat. It's an inspiration.
Additional boating resources:
We also maintain a review of the most popular boat insurance companies in the U.S. Every year we update this comparison and do our best to provide an unbiased look at the most popular boat insurance providers. This started as a page to share with friends at our marina, similar to this funny yacht names page. But after getting lots of positive feedback, we're decided to keep it updated and publicly available. Hope it helps!
Click on the icons below to follow us on social media!