Show up with your own power supply…then use the sun to re-charge.
Whether you're out at sea, camping in the wilderness or providing disaster relief….it helps to have a portable power supply that you can re-charge with a solar panel.
On this page, we review the best solar powered generators on the market in 2017.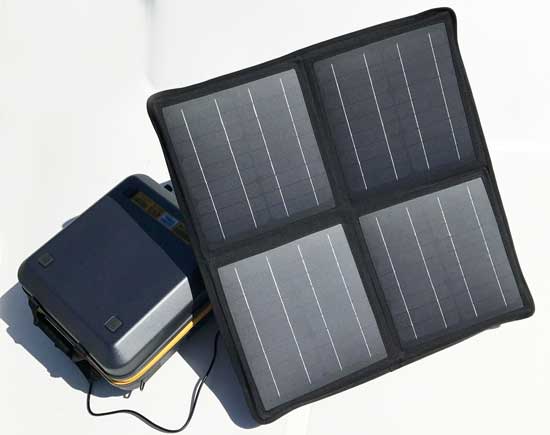 40-watt solar panel charging a portable lithium ion battery.
There are many situations that would be improved with a solar powered generator.
power outages
living off the grid
disaster relief
back-country camping
adrift at sea
preparing for the zombie apocalypse…
Traditional generators are noisy and run on gas. This is alright, however, you'll need a constant supply of gasoline. You also need to transport large, flammable gas containers. Fortunately, advances in solar panel efficiency and battery storage technology have allowed a new form of generator.
Various companies now sell solar powered generators. The generators discussed below contain internal batteries, which can be charged from portable solar panels and from traditional wall outlets in your home. Most people that use these generators will completely charge the batteries before they leave home, then use the solar panels to top off their batteries once they're off the grid.
In the table below, we list the 11 best solar power generators on the market in 2017.
We combined multiple inputs to arrive at this list (customer feedback, durability, pricing, input/output features, solar panel compatibility, brand reputation, ext.)
As you can see, we've covered the range of solar powered scenarios – starting with a glorified rechargeable flashlight and ending with a generator that could power a disaster relief effort.
The table is sorted by increasing price. The most affordable options are at the top. Our list is updated each year. If viewing on a phone, scroll right on the table to see all content.
Brand / model
Battery type
Weight (lbs.)
General uses
Power supply
Price
Esky / Solar hand crank
Ni/MH
.6
Built-in LED light/radio,

charges phones

1 Amp/hr
$22
Compass / Solar hand crank
Lithium ion
.6
Built-in radio, NOAA, LED light

charges phone

2 Amp/hr
$36
Suaoki / Generator
Lithium ion
5.5
smartphone, lap-tops

mini-fridge, small appliances

20 Amp/hr

220 Watt/hr

$209
Goal Zero / Yeti 150
sealed lead/acid (AGM)
12
phone, lap-top

tablet, lights

14 Amp/hr

150 Watt/hr

$229
Anker / PowerHouse
Lithium ion
9.2
lap-tops, phone

small/medium appliances

120 Amp/hr

400 Watt/hr

$499
Kalipak 601
Lithium ion
14
charges all USB devices

and all 12 Volt devices

38 Amp/hr

558 Watt/hour

$599
Goal Zero / Yeti 400
Lithium ion
16
phone, lap-top

tablet, lights

small appliances

emergency back-up

40 Amp/hr

428 Watt/hr

$699
Renogy / Phoenix
Lithium ion
12.8
phone, tablet

lap-top, lights

small/medium appliances

power outage emergencies

20 Amp/hr
$699
Goal Zero / Yeti 1250
Lithium ion
103
similar to Yeti 400

but better suited for

larger appliances

100 Amp/hr

1200 Watt/hour

$1599
Inergy / Kodiak
Lithium ion
20
medium/large appliances

CPAP machine, fridge

1100 Watt/hr
$1749
Solarpod / 1000
LiFePO4
35
medium/large appliances

power tools

disaster relief efforts

40 Amp/hr

960 Watt/hr,

1000watt

max output

$1999
Now for my personal opinions on these generators….
I included a couple of rechargeable flashlights at the top of the list. While these items are stretching the definition of a generator, they do have built-in solar panels that re-charge an internal battery. Both include a hand crank as an alternative option to keep a charge on the battery. This is helpful on cloudy days. Of the 2 brands mentioned, I prefer the Compass
– as it delivers 2 Amp/hrs, which will get your smartphone charged in half the time as the Esky option. Also, the Compass light connects you to NOAA weather radio service. For under 40$, it's a smart resource to include in an emergency throw bag or in the trunk of your car.
The other 8 options on the list are more traditional solar powered generators. 
In general, the price of these generators increases as the power output increases. I included a collection of quality options that range in power output from 150 – 1100 Watt/hours.
Before you start thinking about your preferred brand, you need to decide what is the application for your generator. Do you want something to store in your basement for a household power outage… or do you just want something to keep your phone and camera charged for weekend camping trips? I've included the 'general uses' category to help you align a generator with your application.
I update this list each year and only include quality models that receive overwhelmingly positive customer feedback on various forums and tech websites.
That said, among this list, I do have my favorites…
In the medium size range, I like the Goal Zero 400
and the Anker PowerHouse
. I've used both on long sailing trips out to the northern Channel Islands. They both deliver in the 400 Watt/hr range. In terms of power supply to weight ratio, the Anker powerhouse wins at only 9 pounds. If you're contemplating backpacking a generator into the woods, weight becomes an important metric.
As discussed below, the Goal Zero, Anker and Kodiak generators are sold as separate units from their respective solar panels. These generators are designed to receive a power supply from solar panels, but you need to purchase the panels separately. If you don't want to deal with choosing/installing panels, then I would point you to the Kalipak from Kalisaya.
The KaliPAK 601
is my favorite 'all-in-one' portable solar powered generator on our table. It's packaged in a rugged, black suitcase design. When you open this 14 pound suitcase, you see that one side holds the fold-able 40 watt panel, while the other side houses the lithium ion battery. This model connects with bluetooth to your phone, so you can easily manage your power supply. The Kalipak 601 unit does not charge AC 120 devices, only 12-volt and USB devices. Rated at 558 Watt/hours, this unit delivers a lot of power to keep many devices topped off.
If you're looking for a large generator (1000 Watt/hr) output, I like the Kodiak
from Inergy. This is a generator to store in your basement and safeguard against a power outage. At 20 pounds it can still be carried upstairs to keep the fridge cold till the power returns.
(If you want to retrofit more storage capacity on the Kodiak, you can daisy-chain a regular 12 -volt marine deep cycle battery onto the Kodiak unit.)
Frequently asked questions
FAQ: How much power do these different generators provide?
Our table lists electrical output in terms of Watt/hours and Amp/hours. These values inform you how much power the internal battery can provide and for how long. Watts and Amperage are different ways to measure how much electricity is needed to power a device.
For example, here are a few simple examples to help understand Watt/hours.
a 200 Watt/hour generator could power a 200 Watt light for 1 hour (200/200 = 1 hour)
or a 200 Watt/hour generator could run a 100 Watt light for 2 hours (200/100 = 2 hours)
or a 200 Watt/hour generator could run a 20 Watt light for 10 hours (200/20 = 10 hours)
Each chargeable device should list either the Watt/hours or Amp/hours required to fully charge the device. For example, the average smart phone requires 5 Watt/hours to fully charge. Therefore, a 200 Watt/hour generator would be able to charge that phone 40 times.
FAQ: Are solar panels included with these generator?
Some generators come packaged with the appropriate solar panels, others do not.
The Renogy/Phoenix generator is designed as a rugged suitcase that includes two 10 Watt panels. The user then has the option of installing additional panels to provide up to 120 Watts total.
All of the other generators (aside from the flashlights) do not include their solar panels with the generator unit. If the generator does not come packaged with solar panels, the manufacturer clearly lists the recommended panels.
You generally have the option of purchasing one panel or multiple panels. Most of these generators have solar panel input ports to accommodate multiple panels. As you'd expect, when you increase the total wattage of your solar panel array, you will shorten the sunlight time required to fully charge the battery inside your generator.
FAQ: What type of devices can I charge with these generators?
Each of the 8 larger generators have 3 options in terms of using the electricity stored on the internal battery.
a USB port (charge a cell phone, lap-top or tablet)
a DC port (a source of DC electricity… similar to your car's cigarette lighter)
a regular 110 AC port (same outlet found in your home, plug in your household appliances)
 FAQ: How long does it take to charge the batteries on these generators?
Each generator will differ in charging times. But that said, we can provide some general information.
In general, charging your generator from a wall port in your home (110 AC) will be 2-3 times faster than charging from a solar panel. Keep in mind, larger solar panels will charge your generator much faster than smaller panels. To illustrate this – here's an example.
If you're using the Goal Zero 400:
charging from home will top off the generator battery in 5 hours
charging from a large solar panel (90 watt) will top off the generator battery in 9-18 hours
charging from a small solar panel (20 watt) will top off the generator battery in 40-80 hours
The takeaway…if you plan to use the sun to re-charge your generator on a regular basis, make sure you invest in a larger panel.
If you are a boater and are considering placing solar panels on your boat. I wrote up this 'Do-it-yourself' tutorial describing how to install solar power on your boat. This set-up feeds electricity directly onto a boat's DC battery bank.
I'm a long time sailor and I firmly believe all boats should have a panel mounted somewhere.  It's a great way to ensure you always have a charge on board.
Kevin Curran
Alright…that's the end of our review of portable solar power generators.
We hope our 2017 comparison provided a few ideas and helped you start the process of becoming energy independent.
Disclaimer:
We do our best to ensure the information on allthingsboat.com is accurate and updated at all times, however, we are unable to guarantee the accuracy of all information. Efforts have been made to keep the content up to date and factual. However, these product details will change year to year. For the most current and complete information, please visit the website of each solar generator manufacturer.
Some of the links on this page may be affiliate links.
Click on the icons below to share this page on social media!